Alumni Registration
---
In-Person Attendance

If you are a Texas A&M University (or TAMU System) Former Student, all you will need to attend the SEC Engineering Career Fair is proof of attendance. This can be in the form of a past Student ID, Aggie Ring, or something similar.
Virtual Attendance

If you are an Former Student, you will need to create an account on aggienetwork.com that will then give you an email address. The @aggienetwork.com email address can be used to gain access. This is because you will no longer have access to your @tamu.edu email address to use for registration.
To make an aggie network account, you first visit https://www.aggienetwork.com/register/ and enter your specific information including First Name, Last Name, and your Class Year to create an account. See image below for reference.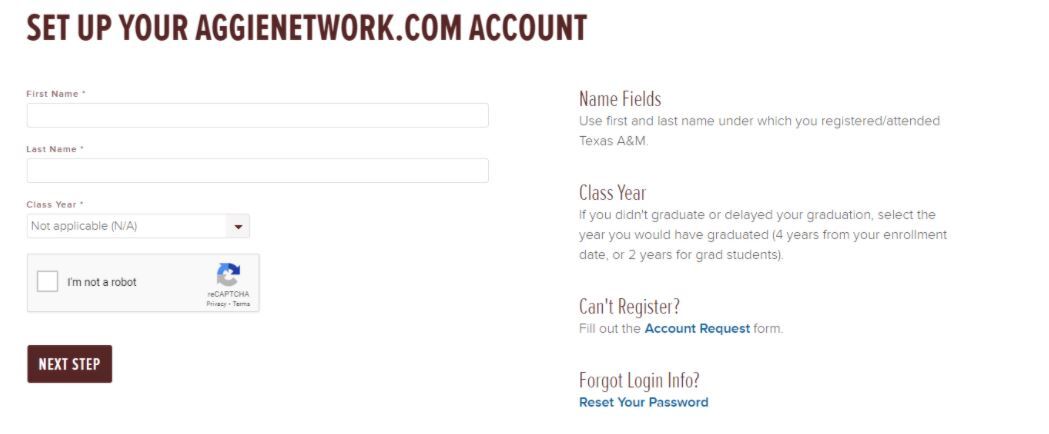 Then you verify yourself by either using your UIN or the contact email address you imputed when you created your account. Once verification is complete, you then select yourself from the list of Aggies that show up. When that is complete, you now have an aggie network account.
To make your @aggienetwork.com email, first visit tx.ag/myemail and sign in. From there you will be prompted to create a username for your email address and check its availability. Image is as follows.

Once you have one, you now have an @aggienetwork.com email and can sign into it using gmail. This will be the email address you use to register for your HireAggies profile.